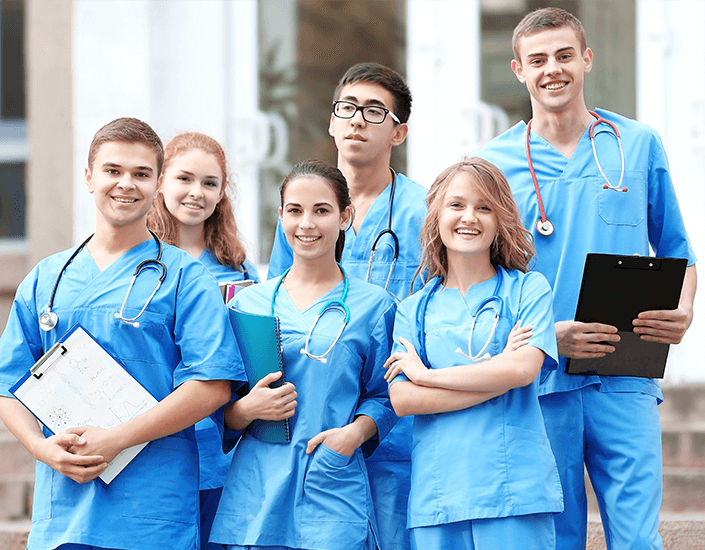 Admission
Procedures
1. The right of admission reserved to the Principal.
2. Prescribed fee should be paid at the time of admission.
3. Fees once paid will not be refunded.
4. Admission is provisional and subject to the approval of the concerned competent authority.
5. The following original documents are required to be submitted at the time of admission along with 3 sets of Xerox copies..
a. Secondary School Leaving Certificate (SSLC, +2)
b. Mark List
c. Transfer Certificate
d. Caste Certificate (for SC/ ST Students)
e. Course & Conduct Certificate from the institution last attended
f. Passport Size Photo 4 Nos.
g. Certificate of Recognition of the qualifying examination
h. Nativity Certificate
i. Medical Fitness Certificate
6. The students are required to refer to rules and regulation of Kerala Nurses and Midwives Council, Indian Nursing Council, Kerala University of Health Sciences and Government v of Kerala issued from time to time.
7. Admission is made only to the First year of the course and not directly to any higher classes or for migration from other colleges will not be entertained.
Bsc Nursing
Total number of seats - 50
Eligibility Criteria
Candidates who have passed higher secondary examination of the Board of Higher Secondary Education, Kerala, or examinations recognized equivalent thereto, with 50% marks in Physics, Chemistry, Biology and English put together, are eligible.
Admission Procedure
50% seats are filled by government through centralized allotment process by Director, LBS center for Secience and Technology , Kerala (Govt. Seats) for more details visit
"www.lbscentre.in".
50% seats (Management) are filled in through the centralised allotment process of Private Nursing College Management Association of Kerala(PNCMAK). Koyili College of Nurisng is amember college of PNCMAK and for registration, prospectus and online application for admission visit
"www.pncmak.in"
COURSE CONTENT
Title of course:
BACHELOR OF SCIENCE IN NURSING – Abbreviated as B.Sc. Nursing
Objectives of course
Aims
The aim of the undergraduate nursing program is to:
Prepare graduates to assume responsibilities as professional, competent nurses and midwives in providing promotive, preventive, curative and rehabilitative services.
Prepare nurses who can make independent decisions in nursing situations, protect the rights and facilitate individuals and groups in pursuit of health, function in the hospital, community nursing services, and conduct research studies in the areas of nursing practice. They are also expected to assume the role of teacher, supervisor, and manager in a clinical/ public health setting/ school of nursing.
Objectives
On completion of the four years B.Sc Nursing programme the graduate:
apply knowledge from physical, biological and behavioral science, medical including alternative systems and nursing in providing nursing care to individuals, families and communities.
demonstrate understanding of life style and other factors, which affect health of individuals and groups.
provide nursing care based on steps of nursing process in collaboration with individuals and groups.
demonstrate critical thinking skill in making decisions in all situations in order to provide quality care.
utilize the latest trends and technology in providing health care.
provide promotive, preventive, and restorative health services in line with the National Health Policies and programmes.
practice within the framework of code of ethics and professional conduct, and acceptable standards of practice within the legal boundaries.
communicate effectively with individuals and groups, and members of the health team in order to promote effective interpersonal relationships and team work.
demonstrate skill in teaching to individuals and groups in clinical/community health settings/ School of Nursing
participate effectively as member of the health team in health care delivery system.
demonstrate leadership and managerial skills in clinical/community health settings.
conduct need based research studies in various settings and utilize the research findings to improve the quality of care.
demonstrate awareness, interest and contribute towards advancement of self and of the profession.
Medium of instruction:
Medium of instruction shall be in English
Course outline
Courses of Study
First Year B. Sc Nursing
Subject
Theory (hrs)
(Class and Lab)
Practical /
clinical(hrs)
(hrs)
Part I
Biological sciences
Paper I
Anatomy
100 (80+20)
Paper II.
Physiology
90 (80+10)
Paper III
Microbiology
90 (80+10)
Paper IV.
Nutrition & Biochemistry
A. Nutrition
B. Biochemistry
60(40+20)
40
Part II
Behavioural sciences
Paper I
Psychology
60
Part III
Nursing –I
Paper I
Nursing Foundations
465 (265+200)
450
Part IV
Paper I
English
30
Paper II
Introduction to Computers
45(15+30)
Library work / Self study
150
Co- curricular Activities
100
Total
980
450
250
Total Hours - 1680
Subject
Theory (hrs)
(Class and Lab)
Practical /
clinical(hrs)
(hrs)
Part I
Social Sciences
Paper I
Sociology
60
Paper II.
Nursing II
Paper I
Medical Surgical Nursing (Adult including Geriatrics)-I
a. Medical Nursing
b. Pathology
110
30(20+10)
440
Paper II
Medical Surgical Nursing
(Adult including Geriatrics)-I
Surgical Nursing
110
520
Part III
Pharmacology
60
Paper IV
Community Health Nursing-I
100
160
Library work / Self study
60
Co- curricular Activities
30
Total
470
1120
90
Total Hours - 1680
Third YearB. Sc Nursing
Subject
Theory (hrs)
(Class and Lab)
Practical /
clinical(hrs)
(hrs)
Part I
Nursing –III
Paper I
Medical Surgical
Nursing(Adult including Geriatrics)- II
110
400
Paper II.
Child Health Nursing
140
400
Paper III
Mental Health Nursing
110
360
Part II
Research & Statistics
Paper I
Nursing Research & statistics
50 (35+15)
80
Library work / Self study
20
Co- curricular Activities
10
Total
410
1240
30
Total Hours - 1680
Fourth Year B. Sc Nursing
Subject
Theory (hrs)
(Class and Lab)
Practical /
clinical(hrs)
(hrs)
Part I
Nursing IV
Paper I
Obstetric & Gynecological Nursing
100+30=130
480+160
Paper II.
Community health Nursing-II
100
320
Part II
Education and Management
Paper I
Nursing Education
80
120
Paper II
Management of Nursing services & Education
70
120
Library work / Self study
70
Co- curricular Activities
30
Total
380
1200
100
Total Hours - 1680
Duration
Duration of course shall be 4 years. The maximum period to complete the course successfully shall not exceed 8 years (double the duration of course)